Nesling Cedar Pergola Kit
Give your garden atmosphere and coziness with one of the Nesling® pergolas made with finger jointed Cedar wood. Thanks to the wide range of sizes, there is something for every garden. The pergola is available in ten different sizes. The pergola is easy to assemble thanks to the supplied installation instructions. All Cedar Pergola's comes stained black.

Attention: Sizes for these products correspond with our Harmonica Shade. Outside measurements can be found here.

Protects up to 95% against damaging UV rays

Easy to clean

5 year warranty on the fabric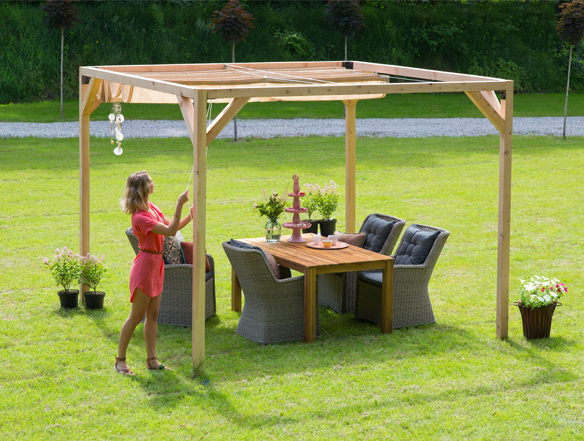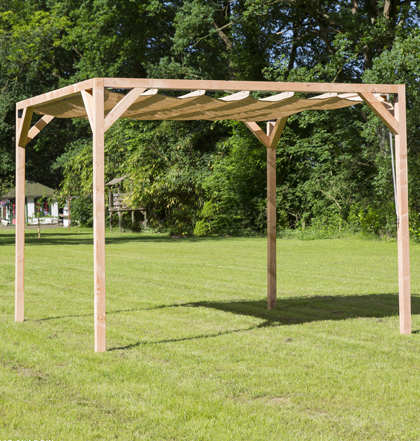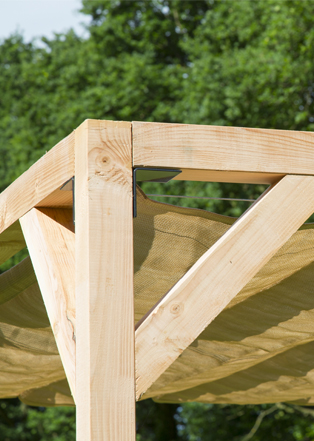 Cedar Pergola Kit 2.0 x 3.0 meter - stand alone
10'5
| Article number | Colour | |
| --- | --- | --- |
| NP200X300-501 | | |
| NP200X300-506 | | |
| NP200X300-508 | | |
Click here to order through our Retailers
$ 2329,99
Cedar Pergola Kit 2.0 x 4.0 meter - stand alone
13' 8.5
| Article number | Colour | |
| --- | --- | --- |
| NP200X400-501 | | |
| NP200X400-506 | | |
| NP200X400-508 | | |
Click here to order through our Retailers
$ 2486,99
Cedar Pergola Kit 2.9 x 3.0 meter - stand alone
10'5
| Article number | Colour | |
| --- | --- | --- |
| NP290X300-501 | | |
| NP290X300-506 | | |
| NP290X300-508 | | |
Click here to order through our Retailers
$ 2465,99
Cedar Pergola Kit 2.9 x 4.0 meter - stand alone
13' 8.5
| Article number | Colour | |
| --- | --- | --- |
| NP290X400-501 | | |
| NP290X400-506 | | |
| NP290X400-508 | | |
Click here to order through our Retailers
$ 2599,99
Cedar Pergola Kit 2.9 x 5.0 meter - stand alone
17'1
| Article number | Colour | |
| --- | --- | --- |
| NP290X500-501 | | |
| NP290X500-506 | | |
| NP290X500-508 | | |
Click here to order through our Retailers
$ 3099,99
Cedar Double Pergola Kit Double 2.0 x 3.0 meter - stand alone
14'5
| Article number | Colour | |
| --- | --- | --- |
| NDP200X300-501 | | |
| NDP200X300-508 | | |
| NDP200X300-506 | | |
Click here to order through our Retailers
$ 3139,99
Cedar Double Pergola Kit Double 2.0 x 4.0 meter- stand alone
14'5
| Article number | Colour | |
| --- | --- | --- |
| NDP200X400-501 | | |
| NDP200X400-508 | | |
| NDP200X400-506 | | |
Click here to order through our Retailers
$ 3359,99
Cedar Double Pergola Kit Double 2.9 x 3.0 meter - stand alone
20' 6.5
| Article number | Colour | |
| --- | --- | --- |
| NDP290X300-501 | | |
| NDP290X300-508 | | |
| NDP290X300-506 | | |
Click here to order through our Retailers
$ 3899,99
Cedar Double Pergola Kit Double 2.9 x 4.0 meter - stand alone
20' 6.5
| Article number | Colour | |
| --- | --- | --- |
| NDP290X400-501 | | |
| NDP290X400-506 | | |
| NDP290X400-508 | | |
Click here to order through our Retailers
$ 4169,99
Cedar Double Pergola Kit Double 2.9 x 5.0 meter - stand alone
17' 3.5
| Article number | Colour | |
| --- | --- | --- |
| NDP290X500-501 | | |
| NDP290X500-506 | | |
| NDP290X500-508 | | |
Click here to order through our Retailers
$ 5069,99
Nesling Cedar Pergola Kit

specifications
Stand Alone model and 10 sizes.
Coolfit Harmonica Shade and operating hardware is included
Includes Nesling pergola kits (excluding floor brackets)
Stained Black
Assembly guide included
Features finger jointed Cedar wood
Cracking and knots may occur over time due to the wood species
Some curvature can occur by shrinking and expanding of the wood over time